We will be updating this list weekly. Please note that all times are given in U.S. Eastern Time (ET). To calculate in other time zones or counties, British Summer Time (BST) is currently five hours ahead of ET and Central European Time (CET) is currently six hours ahead. U.S. Central Daylight Time (CDT) is one hour behind ET. Mountain Time (MT) is two hours behind ET, while Pacific Time (PT) is three hours behind. Contact editor
thedailysplash.tv.
You are watching: The name of the composer pictured above, who wrote more than 600 art songs (lieder), is:
Classical music coverage on Musical America is supported in part by a grant from the Rubin Institute for Music Criticism, the San Francisco Conservatory of Music, and the Ann and Gordon Getty Foundation. Musical America makes all editorial decisions.
** Highly recommended
Monday, June 14
** 8 am ET: Wigmore Hall presents Mahan Esfahani & Dame Sarah Connolly. Mahan Esfahani performs on both harpsichord and piano for a program with mezzo-soprano Dame Sarah Connolly of music by Andriessen, Dowland, Purcell, Wilhelm Friedemann Bach, and Martinu, which concludes with Sir Michael Tippett's Songs for Ariel, three works written to accompany the Old Vic's production of Shakespeare's The Tempest in 1962. Register, view here and on demand for 30 days. LIVE
12 pm ET: Paris Opera presents Dalbavie's The Satin Slipper. Marc-André Dalbavie conducts the world premiere production of his monumental third opera, The Satin Slipper (Le soulier de satin). Based on a drama by Paul Claudel, Dalbavie's opera pits the grand passion between a Spanish conquistador and his married love interest against their Catholic faith. Starring Luca Pisaroni and Eve-Maud Hubeaux in Stanislas Nordey's premier production, which runs for a full six and a half hours. View here and on demand.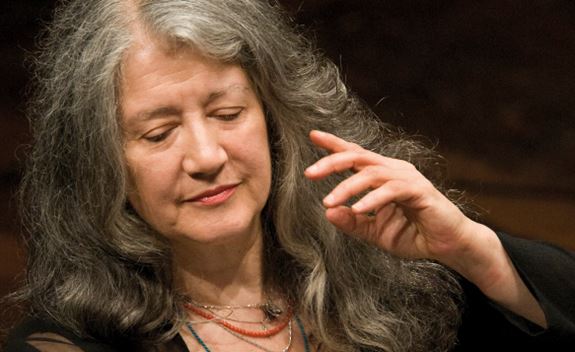 ** 2 pm ET: Medici.tv presents Les Coups de Cœur à Chantilly II. Joining piano legend Martha Argerich—who has just celebrated her 80th birthday—is a cast including her daughter, violist Lyda Chen, pianists Lily Maisky and Iddo Bar-Shaï, violinists Tedi Papavrami and Akiko Suwanai and cellist Mischa Maisky (Lily Maisky"s father). On the program are works by Brahms, Janácek, and Mendelssohn, whose Trio in D Minor gets a rendering by virtuosos Papavrami, Maisky, and Argerich. View here.
2:15 pm ET: Gürzenich-Orchester Köln presents Frank Peter Zimmermann & David Afkham. David Afkham conductor. The Gürzenich-Orchester Köln and violinist Frank Peter Zimmermann in Martinu's Suite concertante in D (second version) for Violin and Orchestra, Bartók's Rhapsody No. 1 for Violin and Orchestra, and Brahms's Symphony No. 3 Op. 68. View here and repeated June 20 and 27.
4 pm ET: Violinist Francisco Salazar and Pianist Max Lifchitz welcome summer performing Hommages, a recital highlighting works that reimagine music from the past. The program will introduce compositions inspired by the music of Bach, Beethoven, Crumb, Debussy, Elgar, Messiaen and Schumann. Included will be recent works from Ofer Ben-Amots, John Bilotta, Allan Crossman, Max Lifchitz, David Osbon, and William Toutant. Further info. Click to view here.
** 7:30 pm ET: Met Opera Streams presents Verdi's Simon Boccanegra. Starring Kiri Te Kanawa, Plácido Domingo, Vladimir Chernov, and Robert Lloyd, conducted by James Levine. Production by Giancarlo Del Monaco. From January 26, 1995. View here and for 24 hours.
7:30 pm ET: Chamber Music Society of Lincoln Center presents The Art of Interpretation: Prokofiev Violin Sonatas. Violinist Paul Huang and pianist Michael Brown combine discussion and performance elements to delve into Prokofiev's Violin Sonata No. 1 in F minor and Violin Sonata No. 2 in D, Op. 94a. View here and on demand for one week.
** 10 pm ET: Philharmonic Society presents Augustin Hadelich & Orion Weiss. Musical America"s 2018 Instrumentalist of the Year, violinist Augustin Hadelich is joined by pianist Orion Weiss, a protégé of Emanuel Ax, to play Debussy's Violin Sonata in G minor, L. 140, Albéniz's "El puerto" from Iberia for solo piano, Térrega (arr. Ricci) "Recuerdos de la Alhambra" for solo violin, Sarasate's Spanish Dances, Op. 22, No. 1, "Romanza Andaluza", John Adams's Road Movies, and Beethoven's Violin Sonata No. 9 in A, Op. 47, Kreutzer. Tickets $20. View here. LIVE
Tuesday, June 15
3 pm ET: Bach Collegium Japan presents Bach Cantatas. Masato Suzuki leads Bach Collegium Japan in a range of works by Bach, including his early composition Christ lag in Todesbanden, Christ ist erstanden, BWV 276, Kommt, eilet und laufet, BWV 249, and Bleib bei uns, denn es will Abend werden, BWV 6. With Ulrich Noethen, narrator, Aki Matsui, soprano, Noriyuki Kubo, alto, Makoto Sakurada, tenor, and Toru Kaku, bass. Tickets Euro 14. View here.
7 pm ET: Orchestre Symphonique de Montréal presents Voices of Women: An Ode To Life. A musical and poetic journey under the direction of Dina Gilbert through the multiple, timeless, and unusual voices of women artists, performed by an entirely female roster. Canadian composers Ana Sokolovic, Alexina Louie, and Barbara Croall are featured alongside French composer Lili Boulanger and English composer Elizabeth Maconchy in a selection of works featuring throat singing, violin, flute, and orchestra. Weaving a narrative swathed in the colors of the tundra, Innu poet Joséphine Bacon gives a reading of her poetry on the themes of night, the seasons, and the cycle of life. View here until June 22.
7 pm ET: International Contemporary Ensemble presents Field Auras. ICE saxophonist Ryan Muncy has been working with Wojtek Blecharz (composer) and Nicolas Navarro Rueda (visual artist, designer, fashion designer) on an installation project which centers around queer identities and experiences during COVID-19. The evening's program showcases each of the artists work, including the performance of a new piece by Blecharz, Field Aura 5. View here.
7 pm ET: Caramoor presents Trimpin: The Sound Of Invention. Another chance to catch this exploration of the sonic world of an eccentric creative genius. Artist, inventor, engineer, and composer Trimpin shuns the hype and hyperbole of the commercial art world, yet his freewheeling sculptures and outrageous musical experiments are cherished by museums all over the planet. Filmed over two years, this documentary follows the artist/inventor as he designs a 60-foot tower of more than 500 automatic electric guitars; builds an ensemble of huge marimbas that converts real-time earthquake data into music; and collaborates with the Kronos Quartet on an outrageous world premiere featuring toy instruments. Tickets from $15. View here until October 10.
7:30 pm ET: Nightly Met Opera Streams presents Wagner's Die Walküre. Starring Christine Goerke, Eva-Maria Westbroek, Jamie Barton, Stuart Skelton, Greer Grimsley, and Günther Groissböck, conducted by Philippe Jordan. Production by Robert Lepage. From March 30, 2019. View here and for 24 hours.
** 7:30 pm ET: Naumburg Orchestral Concerts presents The Knights. The Brooklyn-based ensemble plays George T. Walker's Lyric for Strings, Aoife O"Donovan's America, Come, and Beethoven's Violin Concerto in D, Op. 61, with violinist Gil Shaham, violin. View here. LIVE
10 pm ET: Chamber Music Concerts presents WindSync. The acclaimed wind ensemble performs Erberk Eryilmaz's Raki Havasi, Valerie Coleman's Portraits of Josephine, Ligeti's Six Bagatelles, and Beethoven/arr. Mordechai Rechtman Quintet in E-flat, Op. 4/103. Tickets $20. View here and repeated June 18 at 10:30 pm ET.
Wednesday, June 16
** 1:30 pm ET: Musikkollegium Winterthur presents Mendelssohn with Sir András Schiff. The pianist joins the Orchestra for an all-Mendelssohn program of the Hebrides Overture, the Piano Concerto No. 1 in G Minor, Op. 25, and the Symphony No. 1 in C Minor, Op. 11. Tickets from $12. View here.
** 2 pm ET: Medici.tv presents Mäkelä conducts Berg & Mahler. Renaud Capuçon joins the Orchestre de Paris at their home base in the Grande salle Pierre Boulez under the baton of the ensemble"s next musical director Klaus Mäkelä. Capuçon begins with Berg"s Violin Concerto, dedicated "to the memory of an angel": Manon Gropius, daughter of Alma Mahler who died of polio at just 18. The orchestra then moves on to a work by Manon"s father, Gustav Mahler: the Fifth Symphony. View here.
2 pm ET: IDAGIO Global Concert Hall presents Claudio Bohórquez & Christoph Eschenbach. Cellist Claudio Bohorquez continues his concert series "On the Shoulders of Giants", in which he introduces listeners to mentors, artists and personalities who have influenced his life and musical path. For this concert he will perform a program with pianist and conductor Christoph Eschenbach of Schumann's Adagio & Allegro Op. 70, Webern's Zwei Stücke für Violoncello und Klavier, Schubert's Arpeggione Sonata, and Messiaen's Louange à l"éternité de Jésus. Tickets from $8. View here until December 31.
** 7:30 pm ET: Nightly Met Opera Streams presents Verdi's La Traviata. Starring Natalie Dessay, Matthew Polenzani, and Dmitri Hvorostovsky, conducted by Fabio Luisi. Production by Willy Decker. From April 14, 2012. View here and for 24 hours.
8 pm ET: Baltimore Symphony Orchestra presents The Marin Festival Part II. Music Director Marin Alsop brings the first season of BSO Sessions to a close with a lively celebration of the music of jazz pianist and composer James P. Johnson. Despite the success of the "Charleston," considered the unofficial anthem of the 1920s, much of Johnson's orchestral music was lost. Alsop discovered and restored some of his works, including the Harlem Symphony, which was performed in 1945 at Carnegie Hall. View here and on demand through June.
** 10 pm ET: Kronos Festival presents Program #2. A wide-ranging program with several world premieres: Iranian composer Sahba Aminikia's arrangement of "Kavuki," a passionate Kurdish love song, sung by Shahram Nazeri; Hawa Kassé Mady Diabaté's delicate and propulsive Dulen, filmed in Mali with daughter Rokia Kouyaté; Vietnamese composer/multi- instrumentalist Vân-Ánh Võ's Adrift; and Pink Book, with poetry by Kayla Pellom and film by Miguel Navarro of Sunset Youth Services. A brief Library of Congress film about the Gullah-Geechee culture of coastal Georgia is followed by composer/trumpeter Charlton Singleton's Testimony, inspired by his childhood experience of Gullah-Geechee sacred music traditions. Frank Zappa's None of the Above, written for Kronos, is featured in an excerpt from Alex Winter's documentary Zappa. Completing the program are three Kronos classics: George Crumb's "God-music from Black Angels; Aleksandra Vrebalov's My Desert, My Rose; and Vladimir Martynov's The Beatitudes. View here until August 31.
Thursday, June 17
11 am ET: American Classical Orchestra presents Beethoven Sonatas. The third of seven recitals performed on fortepiano. Dongsok Shin plays an early piano sonata by Beethoven. Recorded in May 2021 at the Metropolitan Museum of Art on a 1792 Johann Stein fortepiano. View here and on demand.
1:15 pm ET: Midtown Concerts presents Karr-Yang Duo. The harpsichord takes a vocal line in an aria by Bach. The violin is relegated to accompaniment in a keyboard sonata by the eight-year-old Mozart. in a sonata by Corelli, harpsichord and violin exchange short, pithy remarks, then grand virtuosic statements. This program is about "trading places", each instrument venturing into creative role reversals. View here.
2 pm ET: Frankfurt Radio Symphony Orchestra presents Hilary Hahn & Brahms. Violinist Hilary Hahn is the soloist as Andrés Orozco-Estrada conducts the FRSO. In Mendelssohn's Ouvertüre für Harmoniemusik Op. 24, Ginastera Violin Concerto, Sarasate's Carmen-Fantasie, and Brahms's Symphony No. 1. View here.
3 pm ET: San Francisco Symphony Orchestra presents Currents: Mavambo eNgoma, Rooted in Music. Explore the intersection between classical music and Zimbabwean musical culture as the Chinyakare Ensemble and San Francisco Symphony come together in a program that celebrates music as the root of family, community, and the world. Tickets $15. View here and on demand.
7 pm ET: The Cleveland Orchestra presents Episode. 13: Dance & Drama. Music for theater and film has strong historical roots. This episode of In Focus begins with music by Grieg who pays homage to the humanist playwright Ludvig Holberg with a suite based on 18th century dance forms. The program concludes with a rarely heard score: the Symphonic Serenade by Viennese-born Erich Korngold. Forced to flee Nazi Germany, Korngold found a new life in California and helping shape the musical sound of Hollywood's Golden Age. Franz Welser-Möst conducts. Adella subscribers can view here.
7 pm ET: Our Concerts Live presents The First Songs. What are the songs that defined your teens? What were the songs that had you cranking the tunes and singing into your hairbrush? Stephanie Blythe and Blythely Oratonio take their ukuleles down memory lane, singing the tunes that made them want to be singers. It's a Blythe birthday celebration, full of nostalgia, joy, the 70's and 80's, and lots of hair. Tickets $20. View here.
7 pm ET: Music of the Americas presents Quinteto Latino. The San Francisco Bay Area wind quintet aims to expand the boundaries of a classical music tradition by performing works exclusively by Latino/a composers. In addition, the quintet advocates on behalf of Latino/a composers and classical musicians through mentoring, commissioning, and being a voice regionally and nationally for issues around diversity and classical music. In their Music of the Americas debut, they perform Felipe Nieto-Sachica's C U Z A (four nocturnes for wind quintet), Gabriela Lena Frank's Mitos: Suite Dramatica para Quinteto de Vientos (y actores), and Gabriela Ortiz's Puzzle-Tocas. View here and on demand.
7:30 pm ET: Nightly Met Opera Streams presents Mozart's Idomeneo. Starring Elza van den Heever, Nadine Sierra, Alice Coote, Matthew Polenzani, and Alan Opie, conducted by James Levine. Production by Jean-Pierre Ponnelle. From March 25, 2017. View here and for 24 hours.
7:30 pm ET: Carnegie Hall Live presents Michael Feinstein. An exclusive performance by Michael Feinstein. Filmed at Vitello's—his 1940s-style club in California—Feinstein delivers favorites from the Great American Songbook by Cole Porter, George and Ira Gershwin, Irving Berlin, Sammy Cahn, and others. View here.
7:30 pm ET: Chamber Music Society of Lincoln Center presents Artist Series: Gilles Vonsattel. A focus on the work of pianist Gilles Vonsattel in a variety of ensembles, complemented by a short documentary film on his life and work. Program: Beethoven's Trio in B-flat for Clarinet, Cello, and Piano, Op. 11, Dussek's The Sufferings of the Queen of France, Op. 23, Liszt's "Funérailles" from Harmonies poétiques et religieuses, Rzewski's "Winnsboro Cotton Mill Blues" from Four North American Ballads, and Anderson's Carmen Fantasy for Two Pianos. Intermission will feature a Q&A. View here and on demand for one week.
7:30 pm ET: Five Boroughs Music Festival, Brooklyn Public Library, and the Newhouse Center for Contemporary Art at Snug Harbor present Terra Nova. A concert-length song cycle created by the members of composer-collective Oracle Hysterical and performed in collaboration with the contemporary mixed-instrument quartet Hub New Music. Terra Nova is inspired by a range of ambitious, gritty (and sometimes naïve, cruel, and myopic) explorers, comprising songs that are by turns darkly ironic, heartrending, and straight-up fun (and occasionally a confounding mix of all three). Among its songs is a playful setting of John James Audubon's descriptions of wood warblers by Brad Balliett; Dylan Greene's depiction of the pre-Columbian exploration of North America by Chinese mariners; and a melancholy view from Amelia Earhart's cockpit by Majel Connery. View here until December 31.
7:30 pm ET: University of Cincinnati College-Conservatory of Music presents the first installment of its two-night Opera Gala,featuring CCM's award-winning Opera and Voice majors performing arias and duets from Donizetti's L'Elisir d'Amore, Rossini's Otello, Leoncavallo's Pagliacci, and more. Each night begins with a performance of the Overture to Rossini's L'Italiana in Algeri by the CCM Philharmonia and concludes with the "Sola, sola in buio loco" sextet from Mozart's Don Giovanni. View here and on demand.
See more: The Punic Wars For Kids – First Punic War Facts For Kids
8 pm ET: Opera Philadelphia presents The Drama of Tosca. Performed in May 2021 for socially distanced audiences at the Mann Center in Philadelphia's Fairmount Park, this special concert adaptation is seen through the eyes of an omniscient narrator and focuses on the three main characters. Ana María Martínez?stars in the title role with Brian Jagde as Cavaradossi and Quinn Kelsey as Scarpia. The three principals are joined by narrator Charlotte Blake Alston and the Opera Philadelphia Chorus and Orchestra led by Corrado Rovaris. Tickets from $20. View here.
8 pm ET: St Paul Chamber Orchestra presents Season Finale. The evening opens with Caroline Shaw's string quartet Entr'acte, inspired by Haydn's Second String Quartet, which, in her words, "takes you to the other side of Alice's looking glass, in a kind of absurd, subtle, technicolor transition." SPCO principal clarinet Sang Yoon Kim performs in two world premieres—one for solo clarinet by Michi Wiancko and a duo with principal bass Zachary Cohen by Clarice Assad. Beethoven's Sextet for Two Horns and Strings, composed during his student years and Mendelssohn's Second String Quintet complete the program. Register and view here.
10 pm ET: Pacific Symphony presents Starburst. Composer Jessie Montgomery draws from diverse influences, such as African-American spirituals, civil rights anthems, modern jazz and film scoring. About Starburst she writes: "This brief one-movement work for string orchestra is a play on imagery of rapidly changing musical colors." Frank Ticheli"s Rest is an arrangement for string orchestra of Ticheli"s moving vocal work, There Will Be Rest, dedicated to the memory of Cole Carsan St.Clair, the son of Carl St.Clair and his wife, Susan. View here.
10:30 pm ET: Seattle Symphony presents Beethoven Pastoral Symphony. Principal bassoon Seth Krimsky opens the concert with the rhythmic and joyous Malambo by Miguel Del Águila, inspired by the Malambo dance of the South American gauchos. Then, making his Seattle Symphony debut, Francesco Lecce-Chong conducts the orchestra in Beethoven's Pastoral Symphony, which captures the composer's love of nature and the Viennese countryside. View here.
Friday, June 18
12 pm ET: Carnegie Hall Selects presents Mahler's Resurrection Symphony. Leonard Bernstein was one of the foremost advocates of Mahler's music, largely credited with the popularity of the composer's symphonies in the United States today. Led by Bernstein, soprano Sheila Armstrong and mezzo-soprano Janet Baker join the London Symphony Orchestra and the Edinburgh Festival Chorus for Mahler's contemplation on life and death in his Symphony No. 2, Resurrection, recorded in England's Ely Cathedral in 1973. View here until Jun 25.
1 pm ET: OperaVision presents Mozart's Don Giovanni. For the first time, Prague's Estates Theatre, where Don Giovanni premiered some 230 years ago, calls on a director from overseas to stage Mozart"s opera. Will Alexander Mørk-Eidem's new production break with its long tradition of the famous rake's last day? Is his Giovanni an incorrigible slave to his instincts? Is he a provocateur? Or a mere catalyst around whom Mozart thoroughly depicts the constantly changing universe of female emotions? Recorded on April 24, 2021. A coproduction of National Theatre Prague and Nationaltheater Mannheim. View here for six months. LIVE
1 pm ET: Trinity Wall Street presents Comfort at One. Sandbox Percussion gives its world premiere video performance of the Trinity co-commissioned movement "Pillar 7" from Andy Akiho's Seven Pillars, artistic directed by Michael McQuilken. Seven Pillars will be released in its entirety at Comfort at One in August. View here.
2 pm ET: DG Stage presents Bomsori: Violin on Stage. Filmed at Wroclaw's National Forum of Music, violinist Bomsori joins the NFM Wroclaw Philharmonic and its Music Director Giancarlo Guerrero. Wieniawski Concert Polonaise is full of challenges, its bravura passages alternating with more lyrical moments. Written six years after the 1859 premiere of Gounod's Faust, the Fantaisie brillante comprises five contrasting episodes. Orchestra and conductor then perform Beethoven's Leonore Overture No. 3, and finally Bomsori performs Waxman's Carmen Fantasie, which started life as part of his score for the 1946 film Humoresque. Tickets EUR 4.90. View here until June 20.
2 pm ET: Concertgebouworkest presents Quartet for the End of Time. Members of the Concertgebouworkest perform one of the most important works composed during the Second World War. Olivier Messiaen"s Quatuor pour la fin du temps, an impressive spiritual ode to the resilience of man, was written at the Stalag VIII-A labor camp in Poland. It premiered there too: an audience of five thousand French prisoners of war listened breathlessly in the icy cold to the eight-part work for clarinet, piano, violin and cello. This concert was broadcast on May 4 2021 via Dutch national television. View here.
3 pm ET: NDR Elbphilharmonie Orchesters presents Lord of the Dance. Alan Gilbert leads the NDR Elbphilharmonie Orchesters in Rimsky Korsakov's Capriccio espagnol Op. 34, Copland's Appalachian Spring (Suite), and Ravel's Boléro. View here.
3:30 pm ET: Ravenna Festival presents Charles Dutoit & Nelson Goerner. A tribute to Stravinsky for the 50th anniversary of his death. The Slovenian Philharmonic Orchestra is conducted by Charles Dutoit with pianist Nelson Goerner in Stravinsky's Jeu de cartes, Tchaikovsky's Piano Concerto No. 1 in B-flat minor, Op. 23, and Stravinsky's L'oiseau de feu. Second suite (1919). View here.
7 pm ET: Bryant Park Picnic Performances presents New York City Opera"s Pride in the Park. A celebration of LGBTQ culture and excellence on the occasion of Pride Month in NYC. The evening will spotlight a diverse program of selections from opera and musical theater, as sung by a quartet of stars from City Opera's Pride Series. The event closes with a new arrangement of the finale from Stonewall, Iain Bell and Mark Campbell's opera originally commissioned by NYCO and given its world premiere in 2019. View here. LIVE
** 7:30 pm ET: Nightly Met Opera Streams presents Verdi's Rigoletto. Starring Christiane Eda-Pierre, Isola Jones, Luciano Pavarotti, Louis Quilico, and Ara Berberian, conducted by James Levine. Production by John Dexter. From December 15, 1981. View here and for 24 hours.
7:30 pm ET: University of Cincinnati College-Conservatory of Music presents the second installment of its two-night Opera Gala, featuring CCM's award-winning Opera and Voice majors performing arias and duets from Donizetti's L'Elisir d'Amore, Rossini's Otello, Leoncavallo's Pagliacci, and more. Each night begins with a performance of the Overture to Rossini's L'Italiana in Algeri by the CCM Philharmonia and concludes with the "Sola, sola in buio loco" sextet from Mozart's Don Giovanni. View here and on demand.
** 8 pm ET: Our Concerts Live presents Twelve Fantasies. From the West Cork Chamber Music Festival, violinist Alina Ibragimova performs the Twelve Telemann Fantasies. Telemann was of course a slightly older contemporary of Bach and in their lifetimes, he was far more famous. These dozen Fantasies are a delight especially in the hands of such a violinist. Each one consists of three to six short sections, too short to be called movements, but which provide marvelous variety within each Fantasie. Tickets $12. View here until June 20.
8 pm ET: On Air presents Dvorák's Ninth. Austrian conductor Johannes Vogel conducts the Synchron Stage Orchestra in Dvorák's Symphony No. 9 in E minor, From the New World Symphony). Tickets EUR 9.99. View here and repeated at various times June 19 and 20.
** 10 pm ET: Kronos Festival presents Program #3. The festival closes with a focus on the Black American struggle for civil rights. Kronos is joined by San Francisco Poet Laureate Tongo Eisen-Martin in Third in the World, a new film with original poetry. Abel Meeropol's Strange Fruit, made famous by Billie Holiday, is heard in an arrangement by Jacob Garchik. The recorded voice of civil rights leader Dr. Clarence B. Jones is featured in an excerpt from Zachary James Watkins' Peace Be Till. The third of Diabaté's world premieres, Kalime, is a buoyant triple-meter song with a melancholy tinge. Also on the program: A Body in Fukushima, with music by David Harrington, in which movement artist Eiko Otake dances on the beach in Fukushima, Japan, near the site of the nuclear plant disaster of 2011. Closing the festival is Terry Riley's "One Earth, One People, One Love" from Sun Rings. View here until August 31.
Saturday, June 19
2 pm ET: Berliner Philharmoniker Digital Concert Hall presents Spinosi & Jaroussky. Jean-Christophe Spinosi's artistic home is music of the 17th and 18th centuries. For his debut with the Berliner Philharmoniker, he has put together a varied program including two works from the Baroque period, a symphony from the Viennese Classical School and Romantic bel canto. Philippe Jaroussky is also at home in this repertoire and contributes arias by Vivaldi and Rossini. Tickets EUR 9.90. View here. LIVE
** 2 pm ET: Opera Saratoga presents A Juneteenth Celebration. Curated by bass-baritone Carl DuPont, a program of prose, poetry, and music by African American composers. Musical selections include songs by H. Leslie Adams, Tim Amukele, Margaret Bonds, Uzee Brown, Moses Hogan, Betty Jackson King, Rosephanye Powell, Florence Price, and Hale Smith. Spoken word selections include excerpts from The Declaration of Independence, The Emancipation Proclamation, and The General Orders which actually notified the enslaved people that they were free. The program will also include first-hand diary accounts and poetry from formerly enslaved people, as well as newspaper copy of the observation of the first Juneteenth celebrations. The program will be performed by Festival Artists from Opera Saratoga's Young Artist Program, many of whom are learning more about Juneteenth through the experience of putting together this program. View here.
3 pm ET: Live from the Barbican presents 12 Ensemble with Anna Meredith & Jonny Greenwood. Anna Meredith plays in her own work Moon, a suite of pieces for amplified chamber orchestra, electronics and live visuals from Anna's sister, Eleanor Meredith, who responds to the music with live drawing and assembling of collages for each of the different phases of the moon. Radiohead's Jonny Greenwood joins to play tanpura in his flowing Water, inspired by his travels around Australian and India, before 12 Ensemble put their stamp on Shostakovich's Chamber Symphony, a ferocious attack on totalitarianism. Tickets £12.50. View here.
3:15 pm ET: Concertgebouworkest presents Mendelssohn, Schubert & Ligeti. Gustavo Gimeno, with whom the Concertgebouw Orchestra also undertook the restart after the first lockdown a year ago, will lead the first live concert since April 16. Italian-inspired works by Schubert and Mendelssohn frame Ligeti"s early Concert Românesc, based on Romanian folk music. View here. LIVE
**7 pm ET: Harlem Chamber Players presents Pity These Ashes: Tulsa 1921-2021. An online concert program on Juneteenth in partnership with The Greene Space at WQXR and WNYC, Harlem Stage, and the Harlem School of the Arts. The program will feature the world premiere of TULSA 1921 (Pity These Ashes, Pity This Dust) by Dr. Adolphus Hailstork, commissioned in commemoration of the 100th anniversary of the Tulsa Race Massacre, with a libretto by Dr. Herbert Woodward Martin. The concert will also include performances of Starburst by Jessie Montgomery, Prema by Alice Coltrane, and The People Could Fly by Trevor Weston. The event will be filmed and broadcast from The Greene Space at WQXR and WNYC and will feature mezzo-soprano J'Nai Bridges, WQXR host and author Terrance McKnight, violinist Jessica (Lady Jess) McJunkins, conductor Amadi Azikiwe, harpist Ashley Jackson, as well as musicians from The Harlem Chamber Players. View here.
7 pm ET: Arizona Friends of Chamber Music presents Tiezheng Shen & Chia-Chun Ko. The violist and pianist perform the "Chaconne" from Bach's Partita No. 2 in D Minor for Solo Violin, BWV 1004 (arr. for solo viola), Hindemith's Sonata for Solo Viola, Op. 11, No. 5: "IV. In Form und Zeitmass einer Passacaglia", and Bax's Sonata for Viola and Piano. Join the artists and AFCM Board Member Alan Hershowitz in a discussion via Zoom at 7 pm on June 19. No pre-registration required. View here for 30 days.
7:30 pm ET: Nightly Met Opera Streams presents Verdi's Don Carlo. Starring Marina Poplavskaya, Anna Smirnova, Roberto Alagna, Simon Keenlyside, Ferruccio Furlanetto, and Eric Halfvarson, conducted by Yannick Nézet-Séguin. Production by Nicholas Hytner. From December 11, 2010. View here and for 24 hours.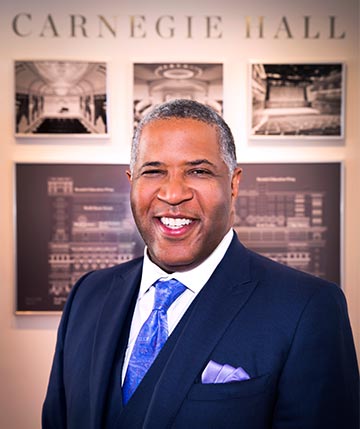 7:30 pm ET: Carnegie Hall Live presents Juneteenth Celebration. Rev. Dr. James A. Forbes Jr. leads this celebration—along with special guest Wayne Brady—to recognize the importance of this historic day and to acknowledge the long road still ahead. In addition to music, dance, and commentary, the evening also recognizes contributions made by prominent African Americans today: Bryan Stevenson, founder and executive director of the Equal Justice Initiative, and Robert F. Smith, businessman and chairman of Carnegie Hall's Board of Trustees. View here. LIVE
8 pm ET: Our Concerts Live presents Thirty-Three Variations. From the West Cork Chamber Music Festival, pianist Cédric Tiberghien performs Beethoven's remarkable Diabelli Variations, showing the composer's uncanny ability to create great art out of next to nothing. Beethoven worked on these Variations before and after creating his Missa Solemnis, so the Variations were born in a time of high seriousness. As Diabelli points out the only comparable set of Variations in the canon is Bach's Goldberg. Tickets $12. View here until June 14.
8 pm ET: Atlanta Symphony Orchestra presents Xavier Dubois Foley"s For Justice and Peace. The Atlanta Symphony Orchestra marks Juneteenth 2021 with the virtual premiere of Xavier Dubois Foley"s For Justice and Peace. This double concerto, co-commissioned by Carnegie Hall, the Sphinx Organization, and the New World Symphony, was created to mark the 400 years of slavery since the arrival of the slave ship "White Lion" in Jamestown, Virginia. Tickets $20. View here. LIVE
8:30 pm ET: Milwaukee Symphony Orchestra presents Towards Resolution. As we observe Juneteenth and continue to address the racial tensions and inequities that roil our nation, the MSO carries on the musical conversation via three works by composers of color. Ken-David Masur conducts Daniel Kidane's Towards Resolution, Purcell's Fantasia, Erkki Salmenhaara's Canzonetta for string orchestra, Coleridge-Taylor Perkinson's Sinfonietta 2 (Generations), and Beethoven's Symphony No. 7 in A. View here.
Sunday, June 20
8 am ET: Opera Lafayette presents Fête de la Musique. Over 12 hours of original classical performances from 8 am ET until 8 pm ET, Opera Lafayette will feature music from Bach, Forqueray, and Roussel, behind-the-scenes views into the creation of a production, family-friendly musical programming, as well as performances from mezzo-soprano Caitlin Hulcup, tenor Jean-Paul Fouchécourt, harpsichordist Justin Taylor, full productions, concert highlights, and many more. From the historic Edvard Grieg house in Leipzig, Washington D.C.'s Tregaron Conservancy, Fondation Singer-Polignac in Paris, and more. View here.
** 12 pm ET: Bang on a Can & Cantaloupe Music presents Michael Gordon's Timber. A 12-hour marathon streaming in celebration of the tenth anniversary of Michael Gordon"s Timber. The program will feature performances of Timber by ensembles from around the world, as well as interviews with performers and collaborators, archival videos, remixes, and more, culminating in a livestreamed performance by Mantra Percussion, played before an invited audience in Brooklyn"s Scholes St. Studio. Timber is a group-percussion piece scored for six amplified wooden 2x4s which have been cut to different lengths to accentuate different harmonics. The custom instrumentation allows Gordon to create the impression that the sound is traveling around and through the room by subtly shifting the accent of sound from one player to another. The result is a meditation on sound and rhythm. View here.
** 2 pm ET: Spannungen Festival presents Larcher, Brahms, Schubert & Widmann. A live streamed concert from the RWE Hydropower station in Heimbach/Eifel near Cologne. Program: Thomas Larcher's Fallen out of Time with pianist Lars Vogt; Brahms's Clarinet Sonata in E-flat Op. 120/2 with clarinetist Sharon Kam and Lars Vogt; Schubert Lieder sung by Ian Bostridge with Saskia Giorgini on piano; Jörg Widmann's Nachtstück (for Clarinet Trio) with Sharon Kam, Aris Alexander Blettenberg on piano and Gustav Rivinius on cello; and Schubert's String Quartet in E-flat D 87 with Antje Weithaas and Anna Reszniak violins, Jan Larsen viola, and Bryan Cheng cello. View here. LIVE
2:30 pm ET: Oxford Philharmonic Orchestra presents Mozart with Marios Papadopoulos. From the Sheldonian Theatre, Oxford Philharmonic founder and Music Director Marios Papadopoulos conducts a program of Mozart's music, beginning with the cheerful Serenata notturna. The Divertimento in D follows, composed when Mozart was just 16, and the concert finishes with Eine Kleine Nachtmusik. View here for 28 days.
3:30 pm ET: American Pianists Association presents 2021 American Pianists Awards. Due to the ongoing health crisis, finalists have recorded individual, non-public, adjudicated recitals. This week, Kenny Broberg performs Beethoven's Piano Sonata No. 31 in A-flat, Op. 110, Fauré's Barcarolle No. 9 in A Major, Op. 101, Alluvion (world premiere) by Laura Kaminsky, Medtner's Piano Sonata in A minor, Op. 30, and Scriabin's Piano Sonata No. 5 in F-sharp, Op. 53. View here.
4 pm ET: Our Concerts Live presents Concertos from the Inside: Week 24: Bruch Violin Concerto in G Minor. In a 24-part series, Rachel Barton Pine performs the entire solo violin part of the greatest violin concertos unaccompanied and shares her perspective on each, explaining how she prepares and how her performance connects to the work's historical and musical context. The series is geared towards career violinists, advanced students, violin teachers, and violin aficionados. Tickets $20. Register and view here.
6 pm ET: Pacific Symphony presents Café Ludwig. From the Samueli Theater, pianist and host Orli Shaham will be joined by Concertmaster Dennis Kim and Principal Cellist Warren Hagerty in chamber music by Reena Esmail, Jessie Montgomery, Sergei Rachmaninov, Amanda Maier, and Germaine Tailleferre. View here.
** 7:30 pm ET: Met Opera Streams presents Verdi's Luisa Miller. Starring Renata Scotto, Plácido Domingo, Sherrill Milnes, Bonaldo Giaiotti, and James Morris, conducted by James Levine. Production by Nathaniel Merrill. From January 20, 1979. View here and for 24 hours.
8 pm ET: Our Concerts Live presents Twelve Seasons. From the West Cork Chamber Music Festival, pianist Zoltán Fejérvári plays Tchaikovsky's Seasons, a set of a dozen short piano pieces, one for each month in the year. Ravel's Tombeau de Couperin harks back to 18th-century France with Baroque movement headings like Prélude, Forlane, Rigaudon and Toccata. Ravel described the work as a homage to the whole of 18th-century French music Tickets $12. View here until June 22.
Monday, June 21
** 8 am ET: Wigmore Hall presents Steven Osborne. The British pianist performs an all-Debussy program including Ballade slave, Suite bergamasque, Deux arabesques, Images oubliées, La plus que lente, and Elégie. Register, view here and on demand for 30 days. LIVE
**2 pm ET: Spannungen Festival presents Brahms, Strauss, Webern & Schubert. A live streamed concert from the RWE Hydropower station in Heimbach/Eifel near Cologne. Program: Brahms Violin Sonata in A, Op. 100 with violinst Antje Weithaas and Lars Vogt on piano; Richard Strauss's Piano Quartet in C-minor Op. 13 with Saskia Giorgini piano, Anna Reszniak violin, Jan Larsen viola, and Gustav Rivinius cello; Webern's Drei kleine Stücke for Cello & Piano Op. 11 with cellist Bryan Cheng and Aris Alexander Blettenberg; Schubert's Piano Trio in B-flat Op. 99 D 898 with Lars Vogt piano, Christian Tetzlaff violin, and Tanja Tetzlaff cello. View here. LIVE
**7:30 pm ET: Met Opera Streams presents Thomas Adès's The Exterminating Angel. Starring Audrey Luna, Amanda Echalaz, Sally Matthews, Sophie Bevan, Alice Coote, Christine Rice, Iestyn Davies, Joseph Kaiser, Frédéric Antoun, David Portillo, David Adam Moore, Rod Gilfry, Kevin Burdette, Christian Van Horn, and Sir John Tomlinson, conducted by Thomas Adès. Production by Tom Cairns. From November 18, 2017. View here and for 24 hours.
See more: How To Get Super Troops In Clash Of Clans ? Here Is Everything You Need To Know
7:30 pm ET: Chamber Music Society of Lincoln Center presents Inside Chamber Music: Haydn"s Quartet in C, Op. 54, No. 2. Bruce Adolphe is joined by CMS artists to examine Haydn"s Quartet in C, Hob. III: 57, Op. 54, No. 2. Always surprising, witty, and daring, Haydn is in top form in this remarkably virtuosic quartet. Adolphe offers a detailed study of the comic effects and compositional thinking of the Father of the String Quartet. View here and on demand for one week.
8 pm ET: Roulette presents Ka Baird: Proximity Exercises. Multi-instrumentalist and performer Ka Baird returns to Roulette on the Summer Solstice to present Proximity Exercises—a new work utilizing voice, flutes, electronics, field recordings, installation, and movement. The piece explores relations of proximity and perspective, acoustic density, and physical distancing. View here. LIVE